Old magazines, vintage postcards, collector's books, you can find a little bit of everything there, lots of used goods and above all great stories as you listen to the box owners with their well stocked stalls. This is perhaps the most beautiful thing you can find there. Memories of paper and poBookstores are incredible. You may not find unique or rare editions in them and you may not be able to buy books for nothing. But these bookstores inspire reading. Their charming atmosphere and coziness seem to invite you to dive into one of the incredible stories, into one of the fantastic worlds standing on the bookshelf.
Libreria Alta Acqua (Venice, Italy)
"Libreria Alta Acqua" is exactly the place in Venice that every book lover should visit. Like the city itself, the bookstore is on the water, so it can only be reached by boat. Many editions are stacked in various places, and in the center of the small hall stands a canoe completely filled with books.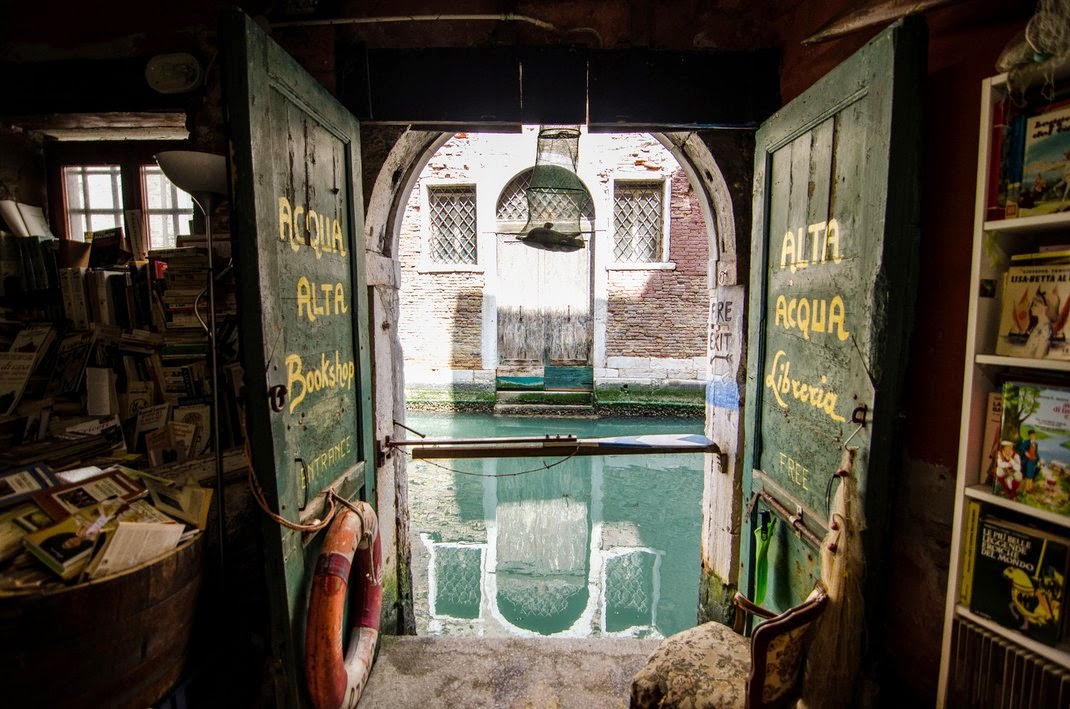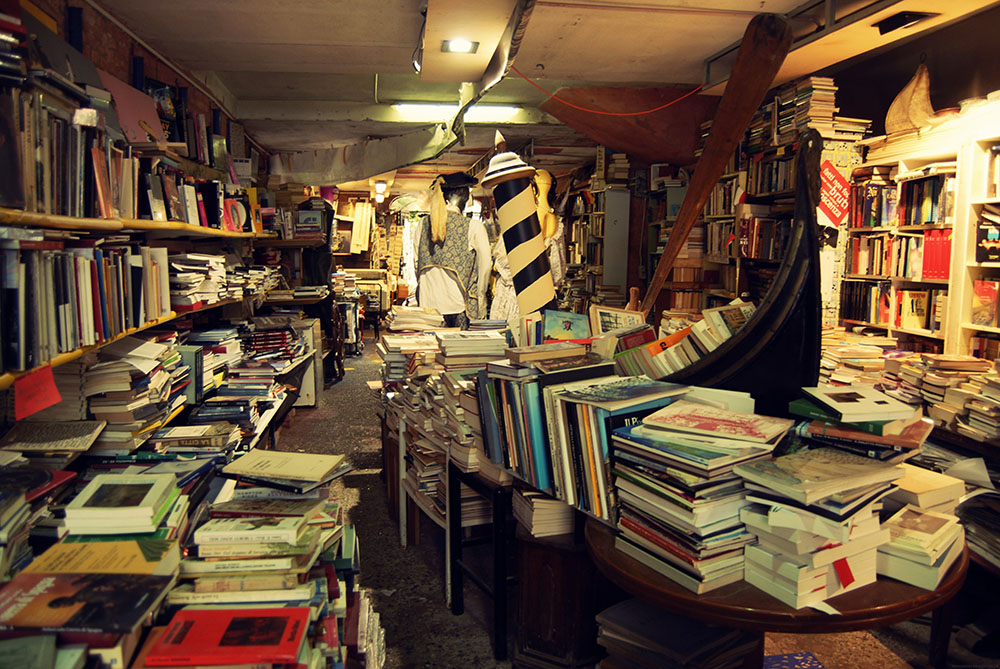 The approach to the book trade here is completely unusual. Thousands, if not tens of thousands, of books of all shapes, sizes and ages are simply stacked on the floor. The special charm and color of the store is given by a unique feature: "Libreria Alta Acqua" can roughly be translated as "Library on the rising water". And this is not an allegory! Water in the canals of Venice periodically rises and floods the lower floor of the store. In order to protect paper products from getting wet and rotting, the enterprising owner of the establishment, 73-year-old Frizzo Luigi, came up with the idea of ​​putting all the magazines and books in old bathtubs, basins and even gondolas!
You can visit this store in order to find some rare book or magazine, or you can just wander through the aisles, studying the original editions and trying to pronounce the hard-to-pronounce titles on the spines. You can take any book from the stack and sit down to read it side by side. You can add your book to the Libreria Alta Acqua collection – this tradition is similar to throwing coins into a fountain. A creative mess reigns in all the rooms: in the first seconds it seems that you got into a warehouse of old utensils, but upon further study you understand that everything has a good classification and the search for a book of interest does not take much time.
For help, you can safely turn to Senor Luigi himself, and the kids will be happy to have fun with the owner's cats – there are more and more of them every year. A mixture of rare second-hand items with a chaotic setting is guaranteed to be remembered for years to come!
Bart's Books (California, USA)
This bookstore first opened its doors to customers more than 50 years ago, in 1964. Today it resembles a garden bookstore. After all, in the courtyard of the store, you can sit under a tree, take a glass of cool lemonade and enjoy reading.
Bart's Books is the world's largest outdoor bookstore, serving the Ojai community since 1964. We believe that there is a book for everyone, and that reading is the catalyst for a connection amongst passionate people. Bart's hosts a collection of over 130,000 used and new books, ranging from rare out-of-print gems to well loved paperbacks. The staff – composed entirely of dedicated book-lovers – can not only help you find a book but can also offer a recommendation for a new favorite. Over 50 years after its conception, Bart's lives on as a haven for passionate readers, intrigued travelers, wandering artists, and those just looking for a good "beach read." We hope you visit us soon!
Atlantis (Santorini, Greece)
This incredibly beautiful place is located on the same wonderful island of Greece. A cozy corner for book lovers, surrounded by the sea. Isn't it a dream?
The quaint bookstore is hidden in the middle of a sea of ​​whitewashed Greek villas cascading down to the Aegean. Atlantis Books is a tiny bookstore, virtually invisible unless you're looking for it on purpose. It contains some of the greatest literary works by authors such as Leo Tolstoy and Samuel Beckett.
Opened in 2004 by a group of young and adventurous college students, the store offers a variety of books by international authors translated into English. A small staircase framed by vines leads visitors past a colorful mural to the bookstore.
The store is a winding maze of books sorted by genre. You'll find anything from literary classics to intriguing new titles. Scattered along the white wall are quotes and colorful illustrations that swirl throughout the bookstore. Also noteworthy is the schedule for the creation of a bookstore along one of the walls.
Chairs and tables are tucked into nooks and crannies, inviting readers to sit down and get lost in the pages of the book. Don't be surprised if you see cats walking among the bookshelves here. The Atlantis Bookstore boasts a patio with stunning views of the sparkling sea.
Book/Shop (California, USA)
This is a small bookstore, known for various vintage trinkets that further enhance the taste of reading. In addition to books, you can find interesting posters, cute book covers and bookmarks, etc.
Do not think that all books are new, shiny and smell like printing ink. The store actually specializes in reasonably priced used books and also offers a wide selection of rare tomes in good condition. Lovers of old books will immediately feel the musty and sacred smell of old paper hovering in the air.
To highlight the beauty of the artistic mess, shelves and replicas of sculptures made to order from damaged originals are scattered throughout the store as if by accident.
There is a section with hardcover books arranged exclusively by color. Much of the fiction is deliberately unsorted to inspire buyers to search for treasures winking from the most secluded nooks and crannies like an old bank vault. Every centimeter of this room was created with the aim of making bookophiles fall in love with it, and it seems to have succeeded.
Word on Water (London, England)
This bookstore "lives" on a boat that travels through rivers and swamps. But this is not the only "highlight" of the bookstore. Since its assortment consists of books received from the state and various charitable organizations, here you can find amazing and unique publications that cannot be found in any other store in the city.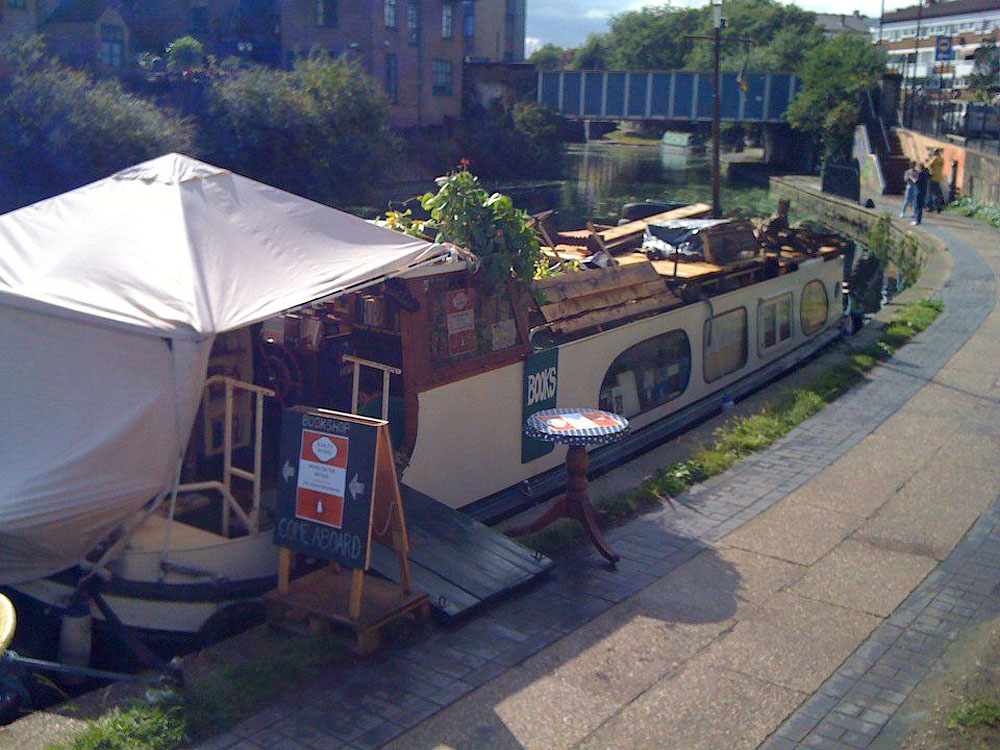 The most unusual barge in the world sails along the Regent's Canal, which is laid through King's Cross, dotted with offices. Once you board the ship, you enter the world of literary treasures.
The 1920s Dutch barge Word on the Water holds a variety of cult, classic and contemporary fiction and non-fiction books, as well as a large number of children's books. Editions fill the space throughout the barge, inside and out, so even those who are afraid to leave the solid ground can carefully study part of the literary collection.
Paddy Screech, Jonathan Privette and Stephanie Chodat are the ideologues of this store, which has been in operation for almost a decade. But it hasn't always been so easy to find. Previously, according to canal regulations, the barge had to change location every two weeks, stopping where its owners could find a free spot. After they broke the rules and stayed in one place for six months, the canal finally made concessions and set aside a permanent pier for the floating bookstore. In many ways, this was facilitated by a successful public company held by the supporters of the store.
Now the barge, which has received a permanent location on the Regent's Canal, is not just a bookstore. In winter, a wood-burning stove is lit here, offering book lovers of all ages a cozy retreat from the harsh cold. In summer, the barge's rooftop garden hosts a variety of performances, including folklore and jazz band concerts and poetry competitions.
The Word on the Water is a unique feature of Granary Square, built on the site of the old King's Cross depot. The section of the Regent's Canal where the barge rests is also home to a small portion of London's boats, a few angry geese and swans, and a small flock of partridges.
Brazenhead Books (New York, USA)
This is a secret bookstore, because not everyone knows about its existence. Previously, its founder, Michael Seidenberg, opened a bookstore in Brooklyn, but due to lack of funds, he later had to close it. Now he sells old publications in his own small but cozy apartment.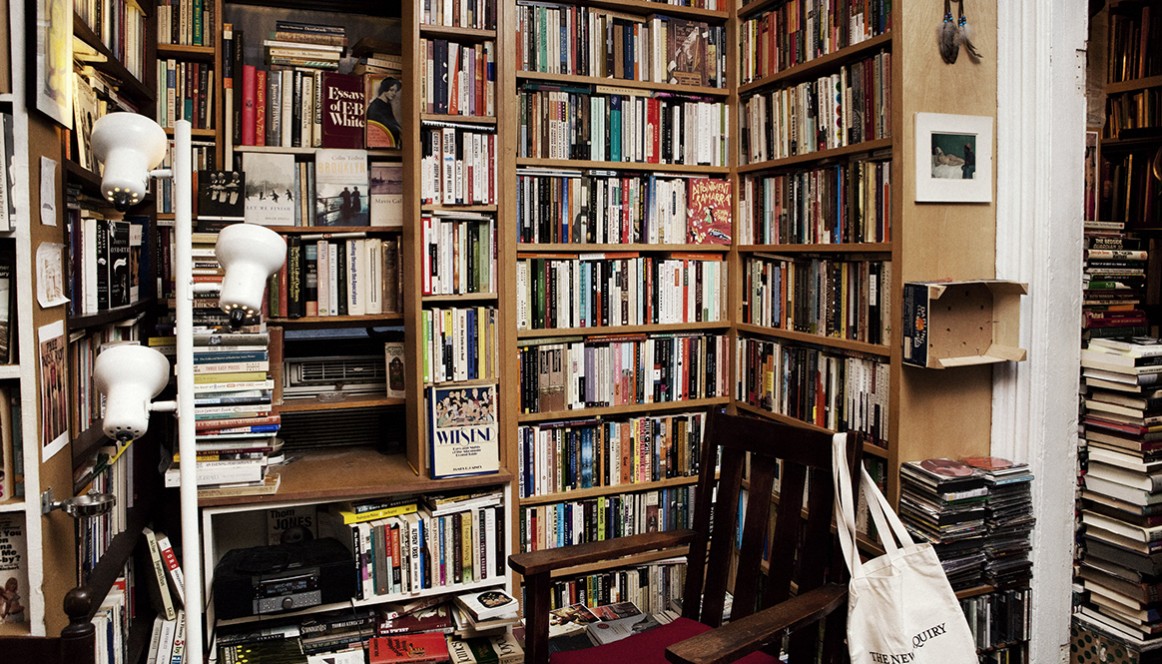 It is both an underground bar and a bookshop. The small and secretive Brazenhead Books has changed its location several times since its existence since 2008 – from a real store to an apartment. Here one could find books in excellent condition, ranging from rare hardcovers to important paperbacks, some of them at significantly less than the market price. Sometimes Brazenhead Books is more like a book club than a bookstore. In addition, to find this store, you will have to do a little research and find out its current address. But should such places be easy to find?
The Abbey Bookstore (Paris, France)
A small, cute room, countless books stacked up to the ceiling, semi-dark lighting and jazz music – this is one of the most cozy bookstores in France.
In 1989, Brian Spence, who hails from Toronto, crossed the Atlantic to bring his Abbey Bookshop to an international audience. The Abbey Bookshop in Paris's Latin Quarter has for the last twenty years become a cultural epicenter for Canadians, Anglophones and Anglophiles from all corners of the world. Although offering a wide variety of Canadian books, its main attraction is an eclectic collection of over 35,000 titles in English ranging from scholarly to popular literature.
The shop sits on rue de la Parcheminerie, originally named rue des Escrivains for the scribes and scriveners who were the heart of the Parisian book trade until parchmentmakers replaced them in the late Middle Ages. On July 1, 1989 the Abbey Bookshop brought the book trade back to this historic street.
The building Spence serendipitously discovered for his shop is the eighteenth-century Hotel Dubuisson, one of the most handsome in the Latin Quarter. The historic "hôtel" is protected as a monument for its picturesque façade, sculptural decoration and carved doors.
Books Actually (Singapore)
The small and very bright bookstore, founded by Kenny Lek, is a mixture of unique books and various vintage decor elements that help create a creative atmosphere – from typewriters to bookmarks.
BOOKSACTUALLY (est. 2005) is an independent bookstore specializing in Fiction and Literature. This includes Poetry, Essays, Literary Journals, alongside obscure, critical works and antique/rare editions. We also stock titles from various subjects we like: History, Biography, Current Affairs, Human Sciences, Math/Natural Sciences, Travel Narrative, Food Narrative, Aesthetics, Music and Film. BooksActually also houses the largest collection of Singapore literary publications including some out-of-print titles.
Barter Books (Alnwick, England)
A bookstore that fascinates customers with its mystery and special assortment. By the way, it was here that the famous war poster with the inscription "Keep Calm and Carry On" was found in one of the boxes.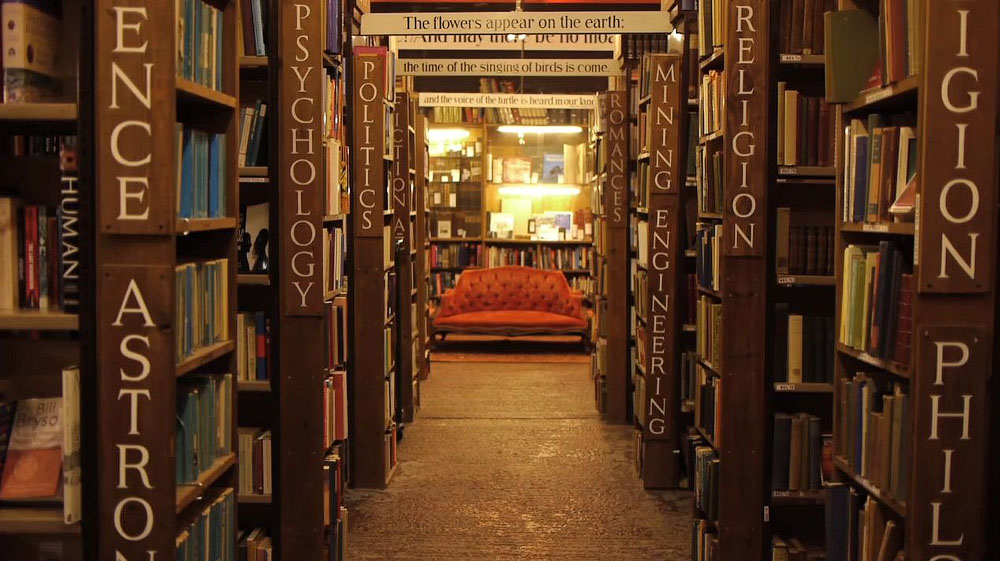 This is a second-hand bookshop in the historic English market town of Alnwick, Northumberland, owned and operated by Stuart and Mary Manly. It is visited by over 350,000 people a year, 40% of whom are foreigners, and is one of the largest secondhand bookshops in Europe. It is considered a local tourist attraction and has been described as the "British bookstore library".
The bookstore is located at the Victorian Alnwick railway station, designed by William Bell and opened in 1887. The station was in use until the closure of the Alnwick branch in 1968; Barter Books was opened in 1991.
The store is notable for its use of a barter system, whereby customers can exchange their books on credit for future purchases; Standard cash purchases are also available.Original 1939 poster Keep Calm and Carry On, at Barter Books, Alnwick, Northumberland.
Barter Books has also been the target of crime on occasion. On May 3, 2007, the local newspaper Northumberland Gazette reported that a book worth over £2,000 had been returned to the bookstore 5 years after it was stolen.
Les Bouquinistes (Paris, France)
A number of small second-hand shops located along the Seine have been popular even among writers for years. This is not surprising: a variety of books and a beautiful landscape. What else is needed for a "tasty" reading?